The ultimate Mac teleprompter.
Teleprompter is easy to use and packs professional power.
Features
Voice Control
Teleprompter can listen to your speech, and play/pause the script based on the words you say. (Requires macOS 10.15 or later.)
Comprehensive Text Editing
Teleprompter has a full rich text editor, and lets you change fonts, line spacing, margins and colors. Drag in images to add them to your presentation.
Use the Overview feature to get a bird's-eye view of your entire script. Use the detached sidebar to zoom in and edit the text while the actual prompting is somewhere else in the script. Or, zoom out and get a feel for the pacing and length of the entire script. You can even make edits in the Overview while the script is prompting!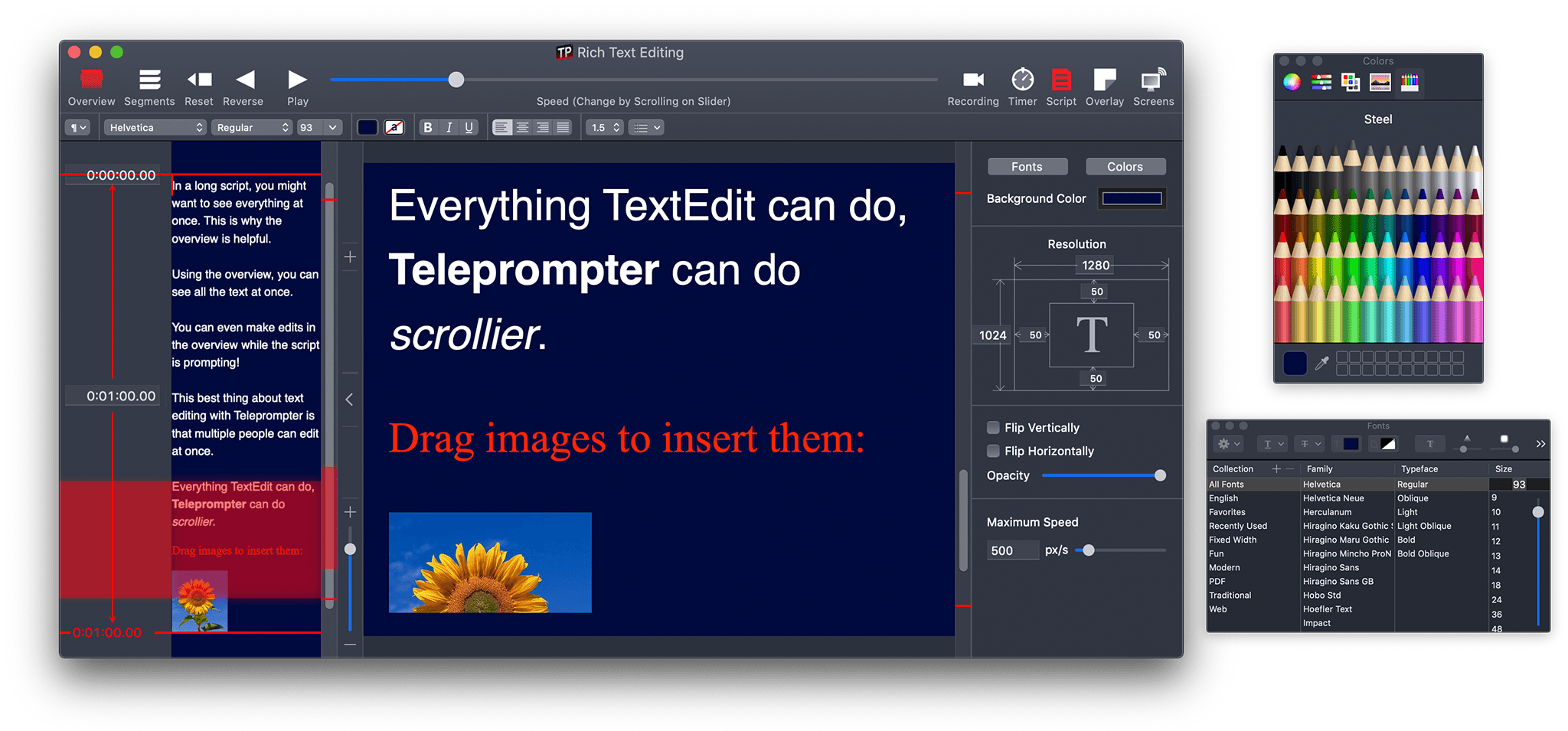 Import and Export RTF, TXT, and DOC Files
Teleprompter gives you the option to change the font, font size, font color, background color, and text alignment both when importing, exporting, and printing files.
Quickly change the font size and invert the colors of a pre-made Word Document or RTF file, or downsize and re-align your script for printing. Teleprompter intelligently changes only the most common color, preserving colored highlights, and bold, italic, and underlined areas.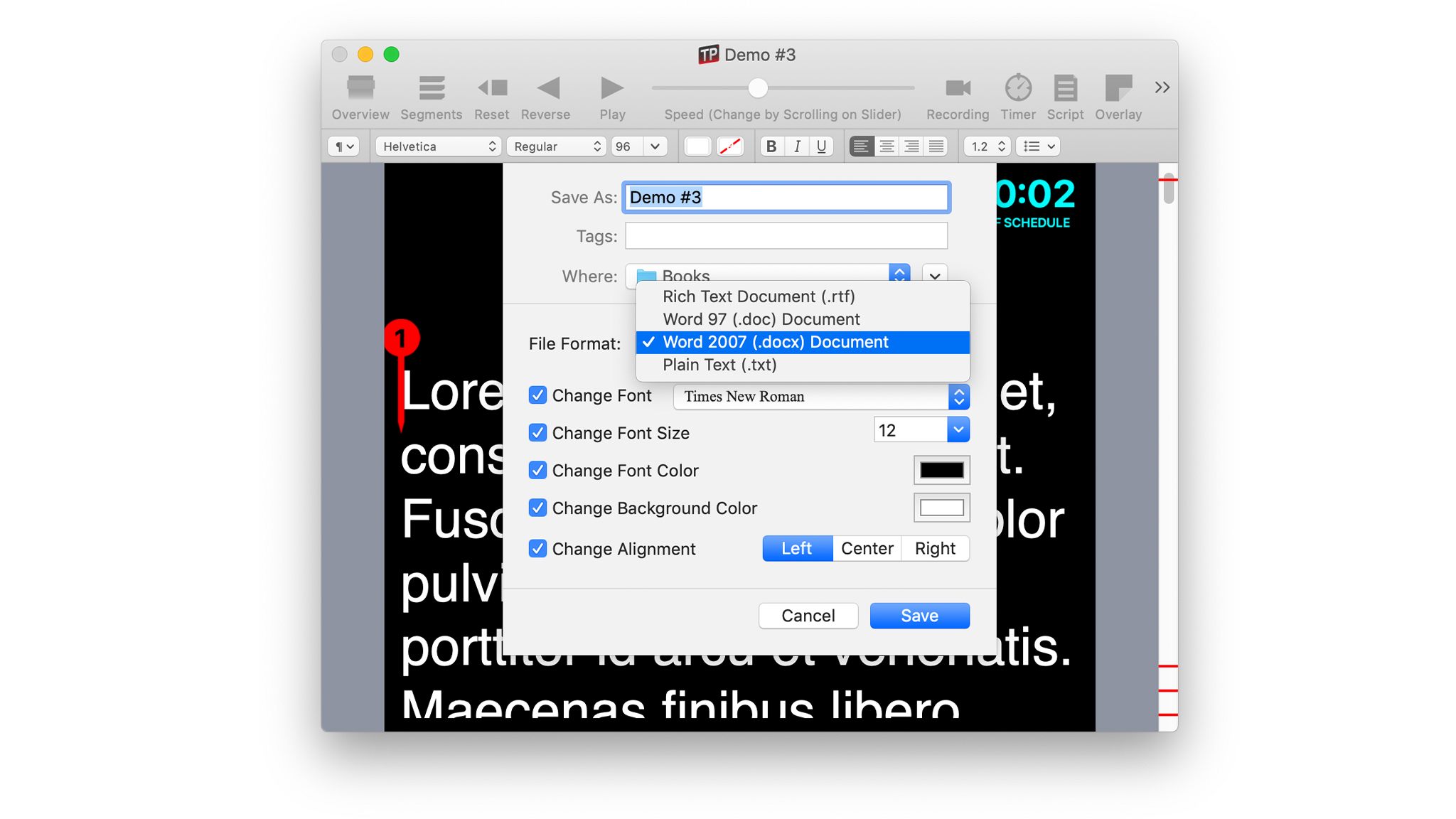 Customize how your Mouse, Keyboard, and Other Devices work with Teleprompter for the perfect prompting experience
Teleprompter for Mac gives you complete control of your keyboard and mouse controls. There are customizable shortcuts to stop, start, change the speed, jump to the beginning, start recording, jump between segment bookmarks, and more.
Teleprompter for Mac works with most jog wheels and wireless remote controllers. Teleprompter gives you fine grained control over what your device controls and how much sensitivity it has. If you're having trouble with your device, email support@pavonine.co, and we'll get it sorted out.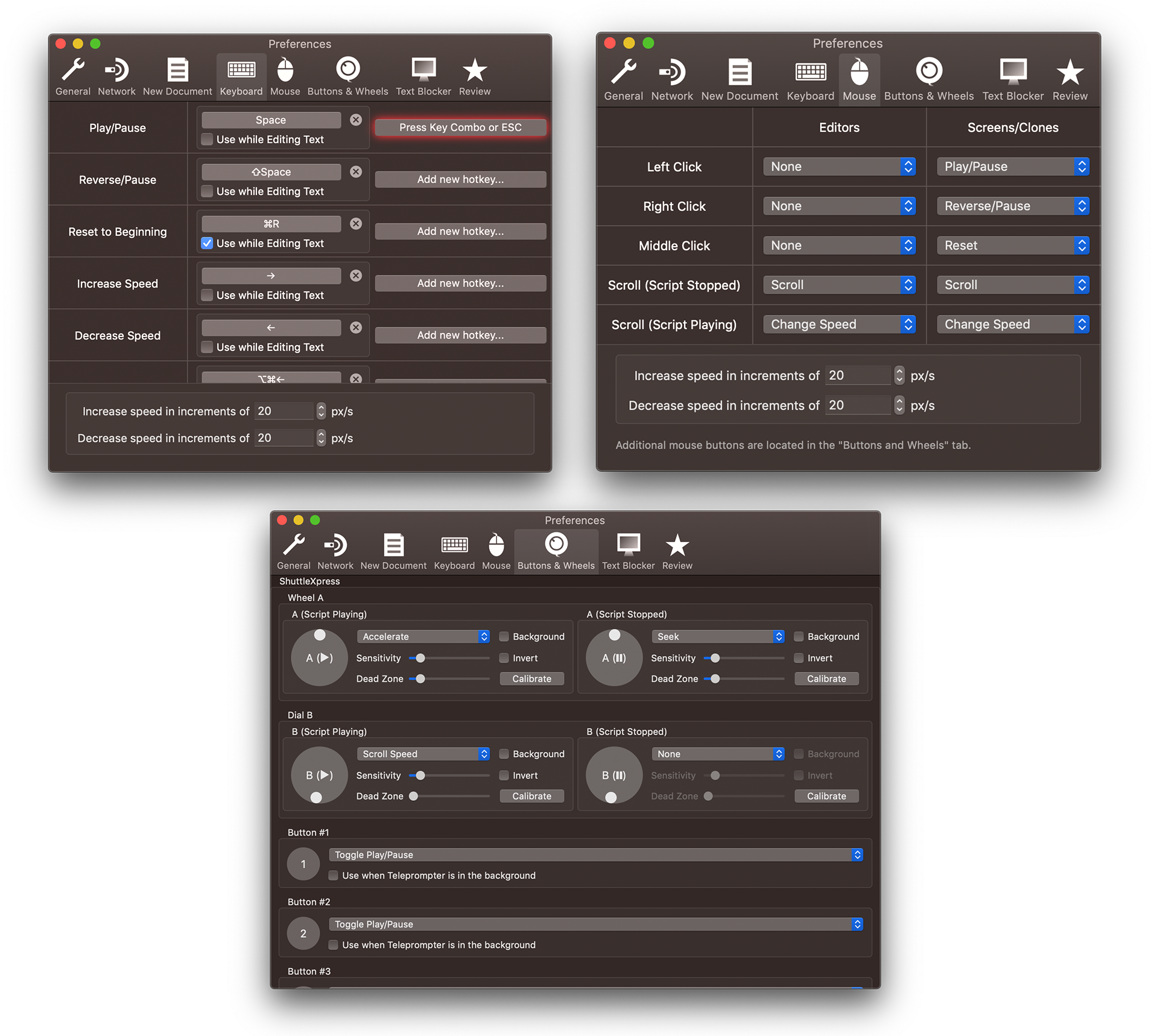 Insert section bookmarks to jump quickly around the script. Give them durations to prompt automatically.
Customizable HUDs
Teleprompter has customizable time, arrow, line, or custom image HUDs (heads-up displays). Change their color, their size, and choose to show time remaining, elapsed, total, or the current time. Simply drag and pinch the HUD elements to position them.
Video and Audio Recording
Choose to record video, audio, or both while prompting. You can set Teleprompter to automatically start recording when prompting begins, and/or automatically stop recording when you reset to the beginning. Teleprompter saves standard video files that you can use with your favorite editor.

Excellent Multiple-Display Support
Teleprompter can display on multiple screens attached to your Mac. Choose different flip settings for each display, so that you can see the text right-side-up, even when using a mirrored display.
Open a preview window to monitor exactly what's displaying on a screen.
Use other Devices as Remote Displays
Teleprompter can broadcast your script live over the network to other Macs running Teleprompter, or to iPads running Teleprompter for iPad.
Syncing is as easy as opening Teleprompter on the other device and clicking the check mark next to its name. Devices communicate over peer-to-peer WiFi, so no network is required. Rather than just streaming video, Teleprompter uses carefully tuned algorithms to account for delays in the network and ensure a smooth prompting experience.
Remote control from iPhone
Download the Teleprompter Controller app to use you iPhone to remotely control Teleprompter.
Drag anywhere on the screen to adjust the speed. Tap to play, pause, or start and stop recording.
Remotely open documents on another Mac, iPad, or iPhone
Working on documents over the network is as easy as selecting "Open From Network."
Many users can edit the same document at once or control prompting. Have one operator editing the script in the Overview section, and another controlling prompting. Changes happen instantaneously over the local network.
If a document disconnects, it saves as a local copy.
Quickly change documents
Use the Switch to Recent menu to quickly swap documents. The new script replaces the currently open script, and shows on the same screens. The new script also displays on remote devices.
Get the prompter out of the shot
On local displays, use the Block Text menu or a customizable keyboard shortcut to quickly cover the text with a color and background image of your choice.
The "Block Text" feature works over the network, adjusting all available Teleprompters.
Networked Redundancy
Use the "Open from Network" feature to use another Mac as a backup for your prompting setup.
Everything between the two documents is synchronized. If one Mac crashes or is unplugged, the other document remains open and can be saved locally.
This process takes place with no delays or stuttering.
Learn more about Teleprompter: